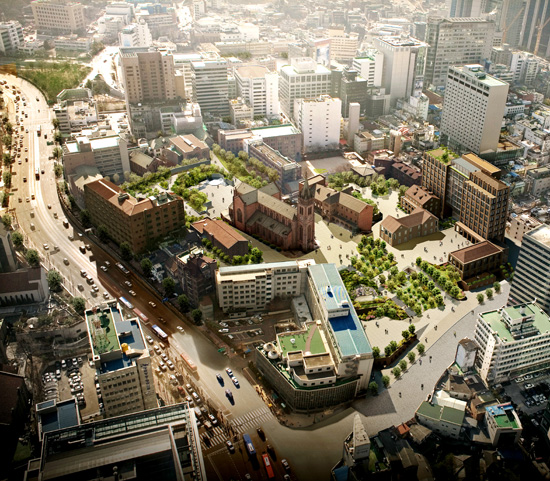 Thirty years in preparation, plans for the reconstruction of the Myeong Dong Cathedral have now been finalized. The date for the work to begin, according to the Peace Weekly, is September 16, a day eagerly awaited by all Catholics, as it was by this site's blog of the day, April 7, 2010: "New Face for the Myeong Dong Cathedral."
Although construction plans are primarily concerned with preserving and enhancing the historic character of the Cathedral, several other objectives will be accomplished. The grounds in front of the Cathedral will be transformed into a plaza and park open to all, eliminating the road that now leads up to the Cathedral. Underground parking beneath the plaza-park area will accommodate the present vehicular traffic, which will not be allowed in the vicinity of the Cathedral, and which now poses problems for the structure itself and for the safety of both pedestrians and drivers, especially when crowds gather in front of the Cathedral on Sundays and for special events. Not only will the underground parking remove some of the congestion, it will also restore the front of the Cathedral to the way it looked in 1900.
A long-cherished desire was to have all the diocesan offices, now in different parts of the city, brought together in one building. That will soon be a reality. Another desire soon to be realized when the construction is complete is to have a Cathedral parish with enough space and modern facilities to serve an estimated 2 million Catholics by the time of the forthcoming 200th anniversary of the diocese.
The construction will proceed in four stages and will not be completed until 2029. But it will not take that long for the Catholics of the Cathedral diocese to begin envisioning the many benefits they will be enjoying, sometime in the near future.
Cliquishness and exclusiveness, a criticism that the Catholics do not want to hear, is also a driving force behind the new plans for the Cathedral grounds. The area around the Cathedral is one of the most expensive pieces of property in Korea and opening it up to all the citizens is a visual effort of the diocese to communicate with the outside community and to dismantle some of the walls that have prevented easy contact with the larger society.