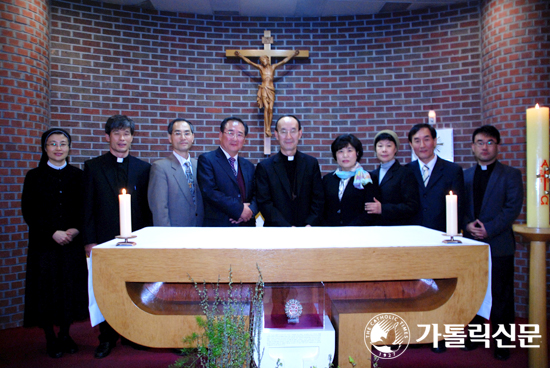 Layperson Sunday will be celebrated in Korea today, one week before the Sunday of Christ the King. It will be the 43rd time since its inception back in 1968. On this Sunday, a layperson gives the sermon, which is usually sent from the Lay Apostolate Conference for use in the parish if desired. This year the topic is "A new way of evangelizing has arrived."
The sermon informs us that of the world's population of over six and half billion four billion live in Asia, and only about 3 percent are Catholic. And in many countries they are persecuted and face other difficulties in worshiping openly and freely. It is not sufficient only to pray; material aid and lay missioners are also needed.
Mention was made of the documentary film "Don't cry, Tonj," depicting the life of a Salesian priest-doctor, Lee Tae-suk (1962-2010), who volunteered as a missioner to the Sudan. He died Jan.14 at the age of 48 from colon cancer. This film is a powerful portrayal of what it means to love one another and what evangelization should mean to us.
The Pope in his Mission Sunday message tells us that the call of Jesus is a response in mission by "priests, consecrated people, catechists and lay missionaries in the constant endeavor to encourage church communion. Even the intercultural phenomenon may be integrated in a model of unity in which the Gospel is a leaven of freedom and progress, a source of brotherhood, humility and peace." The Pope reminds us that fellowship within the Church is an important part of mission.
The sermon on Layperson Sunday, using an example from Korean Church history in the last years of the 18th century, tells us that a catechist, in order to save the life of the only priest in Korea, a Chinese priest, gave up his own life. The priest, six years later, seeing the suffering of the Christians, gave himself up to the authorities to help lessen their suffering. This is a good example of the traditional fellowship within the Church, the sermon emphasizing that the fellowship of priests, religious and lay people is important and necessary.
A Religious Sister quoted in the Catholic Times mentions the challenges the Church has in Asia: increasing our solidarity with the poor, promoting interreligious dialogue, and moving forward with inculturation--making the Church more Korean. The challenges for the layperson are found primarily in how best to prepare for awakening to the call of mission in order to respond to the needs of the present by a unified pastoral concern. Activation of the various lay groups and an understanding of layperson and religious as companions in the mission of Christ must be stressed.