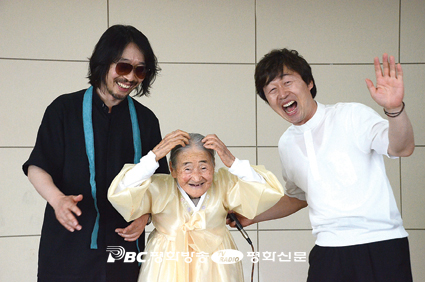 An editorial in the Peace Weekly celebrated the faith life of a mother of four priests, the first for Catholics. On her 90th birthday, June 6th, a Mass was celebrated in the Chunchun diocese with her four sons on the altar. Maria Lee has 7 sons and 1 daughter (also in the religious life) and has lived for the last 65 years in the same parish, where her four sons became priests.
She sat in the first row with a yellow traditional Korean dress that she had from the time of her 3rd son's ordination day. "I who have had nothing, God in his grace has given me everything. Up until now I have lived a very happy life."
She is descended from 8 generations of devout Catholics, and although living a life of poverty she lived her faith life devoutly. The influence of the mother on the vocations of her sons is acknowledge by all four. One of the sons remembers at the age of 3 or 4 saying the rosary with his mother before the statue of the Blessed Mother. Prayer was part of her life by which she was able to overcome the difficulties of life.
When it came to the faith life of her children she was unbending. If one of the sons missed Sunday Mass, without fail she would take the rod in hand and refuse to give them their meal. "Those that don't appreciate food for the soul don't have the right to eat their rice." With any free time she would be reading the lives of the saints and other spiritual books that she would use to instruct her children.
She is now living with her youngest son to whom she gave birth at the age of 47, and even at the age of 90 she continues to prepare his meals. The youngest son heard that he was offered to the Blessed Mother at birth and took the road to the priesthood as something natural to him. The father died when he became a deacon. When the mother thought that the sons had something bothering them she would write them a letter expressing her concern. The sixth son mentions that his mother has written him many letters telling him to pray and meditate. "No matter what is happening in your life make sure that you have a smile on your face when you are with the Christians," she entreated.
One does not become a priest by exerting pressure, and it is not rare to have children turn against their religious upbringing. So in this case there must have been something in the way she related with her children that influenced her sons enough for them to choose the priesthood--they received the precious inheritance of their religious faith.