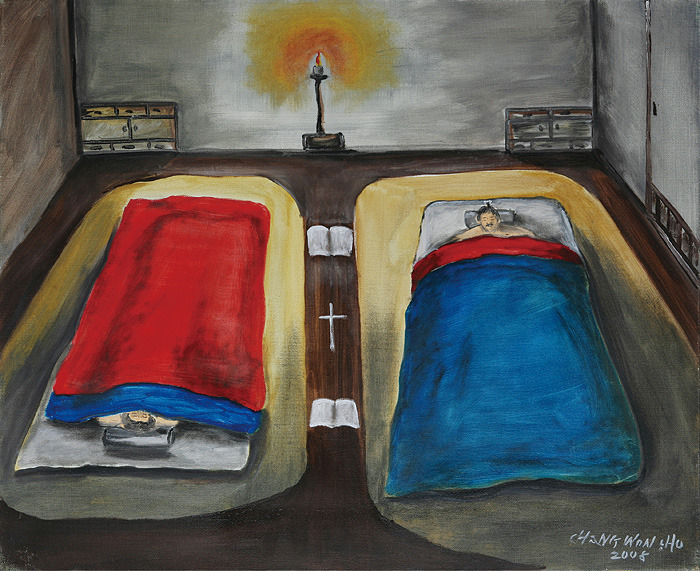 There have been many books, plays, movies and even an opera about the celibate couple: Lutgarda Yi Sun-i and John Yu Jung-cheol. They are on the list of 124 martyrs who will be beatified on Pope Francis' visit to Korea. We have already written about them in a blog for Oct. 18, 2010.
Usually the interest on matters of this type would be limited to those who are Catholic, but a non-believer and university professor has written a book about Lutgarda Yi Sun-i: Beyond Death--Letter from Prison. A non-believer writing a book about a martyr is without question, rare. He was moved by the high values that the martyr had facing death. He wrote the book about Lutgarda not so much about her Catholicism but as a woman of the late Choson Dynasty with high ideals that he wanted to bring to our attention. Studying the period acquainted him with Catholic values.
He became familiar with Lutgarda from reading the History of the Catholic Church in Korea by Father Charles Dallet. It was in this book he heard about the letter.The letter was written to her mother and two older sisters in Korean script. Her deep faith could be seen not only in each word that she wrote, he said, but she was talking about giving their wealth to the poor since her husband John Yu Jung-cheol was a member of the wealthy class of that time. Few at that time had this kind of belief and concern for the poor. This impressed the professor in the reading of the history. If the martyrs are a sign of blessing, then Korea is a blessed country, he says.
The professor has been gathering information on the martyr for many decades without any recourse to the Church. He wanted to be as objective as possible and last year he began lecturing on the martyr.
Lutgarda was considered a great sinner and during those days of persecution when the Choson Dynasty was coming in contact with the modern day thinking her vision helped the country to grow. He would like to have the young people read the letter that was stronger than death filled with her revolutionary convictions.
The book begins with Lutgarda and the family of her husband at the place of martyrdom. They were meeting their death in the way water flows, was the professor's way of describing the way they faced death. He then examines the letter in detail.
John was 22 when he died, and Lutgarda was 20. These ages apparently have a great deal to do with the professor's wishes to see these two martyrs be an example to the young people of our time. They had strong convictions and were willing to die for them, which is attractive to people of all ages and times. He would like to see the story of these two martyrs go beyond the confines of Catholicism.