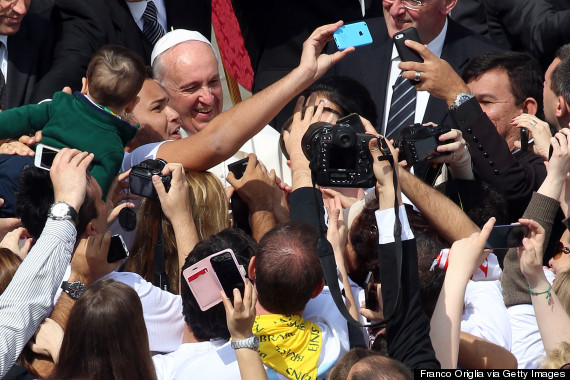 Pope Francis' management style has received a great deal of analysis. In the Peace column of the Peace Weekly the writer introduces us to a recent book published by the American Management Association, Lead with Humility:12 leadership Lessons from Pope Francis. The author,

Jeffrey A. Krames

, is Jewish, he also wrote the book about the management style of Jack Welch of General Electric.
The contents of the book shows that a good leader is one who mixes with those with whom he works, leaves his office, cuts down on exorbitant meals, and other excessive expenses, and dispenses with many of the privileges of his office. He encourages his priests and laity to widen their experience and being an example of what to do by doing it. The pope goes outside of the borders of the Church trying to bring all closer to God. Humility is the virtue that he exemplifies in his life.
Even if we are not interested in the way Krames expresses the management style of the pope, we understand his actions from our common faith life. As soon as he became pope he visited the island of
Lampedusa. He wanted to be with the refugees who were looking for work. On his birthday he invited the homeless to be with him at table.
We need not go to the news for information on the pope's informality for we saw it on his visit to Korea this past August. He refused a chair, and stood with the handicapped for an hour. We no longer see this as something exceptional but see it as who he is.
The word 'audience' used with the pope clashes with what he has shown us. In the Korean dictionary the word audience is defined: "to visit someone you respect, a formal meeting with one in a higher position." The word in the past was used in meeting the king or the pope. The process was complicated. In Korea on the visit to the Qing dynasty emperor the Qianlong Emperor (Chien-lung) of China a Korean history book mentions the long kneeling, bowing, raising the buttocks and crawling for the audience. In the West an audience with the emperor in the third century required the kissing of his feet before the audience.
The columnist reminds us in the status society of the past to look a person in the eyes was not permissible, for those in a supposedly lower level in society. With the pope we have selfies taken with smartphones. No longer is he living in the apostolic palace but in the house for pilgrims. Does the word 'audience' fit with Pope Francis when we see what was meant in the past?
The pope's meeting with those who are alienated from society and his warm greetings to all, the word 'audience'.... No matter how much the columnist tries, the word does not fit.