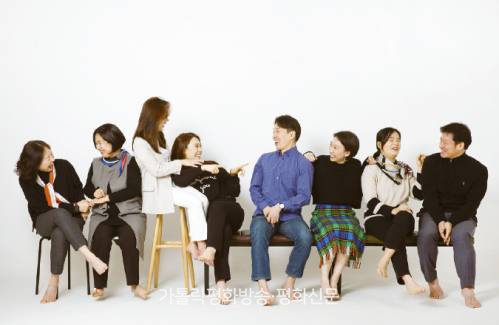 In the Catholic Peace Weekly, the writer a Photo Healer writes about a group of beautiful people in his recent column. For him, meeting 'beautiful' people is always fun.

More so for those who are together in one place and can share time together harmoniously. When he looks at the scene, created by people, interacting with each other in this way it's beautiful. Rather than those who are well known, he is more impressed with people who live ordinary daily lives. Perhaps it's sharing the precious communion of people's minds that's very touching which inspires people.

They are special people the writer has been watching from May last year to now. The group consists of eight citizens who came from their respective homes and met each other for the first time as members of "Photo Compassion Workshop with North and South Koreans." As the name suggests, some of them are from North Korea. Often called North Korean defectors and hidden in the shadow of the socially disadvantaged. Another segment of society wants to escape the yoke of division and open the eyes to each other's existence.

The theme of the meeting is: "A new look at us - A time when we dream of an era of empathy beyond boundaries and distinctions." To achieve this they gathered cherishing each other. At the start, there was a curiosity about who would be the North Korean defectors. However, with time they became caring for each other, have taken the time to have a sincere relationship that anyone from anywhere is okay.

One more thing to note is that they are using the term "North Koreans" after judging that terms such as defectors, refugees, and 'new people' create a sense of discrimination and separation. They met within a framework of empathy and solidarity as neighbors living together without looking at themselves separately as "me" and "you."

After 70 years of division, the emotional distance between the two Koreas is still great. But he can't help but applaud them for reflecting on our past history, which has been divided with the differences in ideology and system; demonstrating in practice the possibility that we can all achieve happiness together.

These days, when the cold winter has passed and the spring flowers have begun to bloom, we all want to laugh together. Spring has sprung again in our land.